---
---
EndoClot® Polysaccharide Hemostatic System (EndoClot® PHS)
EndoClot® PHS is a single use medical device consisting of Absorbable Modified Polymers (AMP®) and a unique powder delivery system (applicator). It is a safe and effective method to control bleeding in both upper and lower GI tracts. It works particularly well for large, oozing to moderate bleeding wounds, such as ulcer bleeding, tumor bleeding and EMR/ESD. It is capable of being applied to lesions that may be located in hard to reach areas. It is also useful to prevent re-bleeding post EMR/ESD and can be used as an add-on therapy to control bleeding with any other conventional techniques.
---
---
AMP® Particles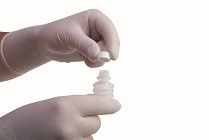 AMP® particles are biocompatible, non-pyrogenic and starch derived. AMP® particles contain no human or animal components.
Ultra hydrophilic
Fast degradation
---
Applicator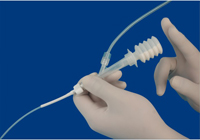 The applicator is composed of a powder/gas mixing chamber, a delivery catheter and a connecting tube with a gas filter to an external gas source.
Easy to control
Anti-reflux design to prevent occlusion
Effective for use in hard to reach areas
---
EndoClot® PHS and EndoClot® Air Compressor are not for sale or distribution in the U.S.